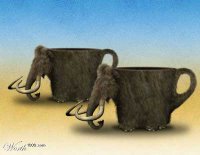 I did a post today over at
Central Snark
about puns... so I thought I´d continue the party over here. Not exactly the same though...I do have a sense of pride...around here somewhere!
I thought I would ask you guys some really deep questions that are runnign through my head as I type...
1.) If man evolved from monkeys and apes, why do we still have monkeys and apes?
2.) Why do they sterilize the needle for lethal injections?
3.) How much deeper would oceans be if sponges didn't live there?
4.) If people from Poland are called "Poles," why aren't people from Holland called "Holes?
5.) If you take an Oriental person and spin him around several times, does he become disoriented?
Now: These are questions I need answers to. If you have some, please let me know...I really need a
piece
of mind ;)
And just because this was so much fun:
"A mushroom walks into a bar, sits down and orders a drink. The bartender says "We don't serve mushrooms here." The mushroom says, "Why not? I'm a fun guy!"
*chuckles*
p.s Kudos to the one who cracks the visual pun!
And that, my friends, rhymes!
well, at least I amuse myself :)
Posted by Minka :: 12:23 pm ::
37 Royal Subjects


Link to this Royal Decree!
-------------------------------------