So many things, such a small brain...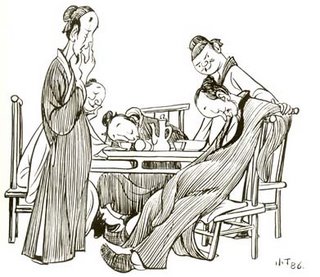 The big 30.000 guests is coming up on my blog. Who would have thought that I could trick your people into staying :) Most of you are regulars, well you sorta have to since I know where your blogs are. Some of you drop in and out and in again...which is fine as long as you have a good excuse. Very few of you are spam-comments and I just verify you. To the new ones, I really am nice. Sorta, you just really have to wanna see it. I guess all I wanted to say is: Thanks for hanging around :)
Our weekly Brian Teaser:
"Zoology was based on his work until Charles Darwin came along, but today he is known as the philosopher that invented formal logic and wrote about almost every ethical problem of his time. He spent twenty years at Plato's Academy as both a student and a teacher, claiming among his pupils Alexander the Great. His Lyceum was known as the "walking" school since they walked around while debating. He didn't believe in evolution, women's rights, children's rights or manual laborers."
You know the drill!
HINT
at the right answer in the comment section!
Some Penguin love!

For Neva and Joel, who remind us every day how loving life can be. Happy 21st anniversary!
ps. Yours Truly has been honoured by becoming a writer for
Central Snark
. Four "funkified" ladies trying to uplift your spirits on a day-to-day basis. Somethign to read while you gently sip your first coffee in the morning. I am honoured indeed and hope I can live up to expectations. Thank you ladies!
Posted by Minka :: 2:05 pm ::
41 Royal Subjects


Link to this Royal Decree!
-------------------------------------