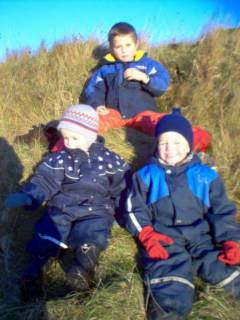 The Three Tiny Ones

Let me introduce to you three charming gentlemen. Their names are Ómar Högni (top), Smári Valur (right) and Grétar Jóhann. They are three brothers. (no! not my children) Whenever I feel a little blue, low or even down, it is these guys that can bring a smile to my face. Each one is so unique and they are extremely different from each other...that at times it can really do your head in.
Ómar comes up with the greatest ideas and questions that just leave my without words. An example: "Monika, ef ég tala á íslensku í simann þinn og mamma þín svara í Þýskalandi, kemur þá það sem ég sagði á þýsku til hennar?"
Smári insists on wearing his socks (preferably orange), pulled up over his trousers all the way to his knees. he has a thing for Lina Langsokkur at the moment and won´t leave the house unless he is aloud to bring shame on us...you just have to imagine people looking at us and their faces radiating pure disbelief at my inability to dress kids properly.
Grétar just leaves me open-mouthes every time he figures a new variation to my name...he just will not except the real thing. I swear to god, one time I got an Ikea out of him. Nothing against Sweden, but I do not want to be named after a cheap furniture store!
There you go!
Posted by Minka :: 1:33 am ::
1 Royal Subjects


Link to this Royal Decree!
-------------------------------------